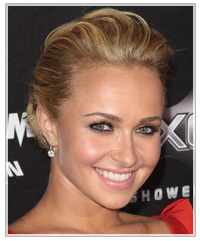 Hayden Panettiere may be a diminutive woman, but her stunning hair and makeup give her a larger than life appearance, both on and off the red carpet.
Since Hayden chopped off her blonde locks, she has been experimenting with a variety of cool, modern 'dos that suit her heart face shape, and bring out her sparkling green eyes.
Hayden has warm, medium-toned skin, which compliments her goldenhair. To bring out her green eyes, she lines the upper and lower lash lines with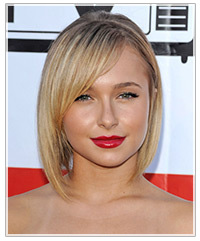 black or dark brown pencil, and softly smudges the edges. She keeps her eye shadows neutral but with a touch of warmth. Light copper, cinnamon and mocha shades are great choices for girls with blonde hair and green eyes. A light green shade will also make hazel eyes pop—just make sure it's a yellow-based green, rather than a cool pastel or mint green. Panettiere usually wears light girlie shades of pink, peach and nude on her lips, but when she goes glam, she chooses a warm, medium-red shade.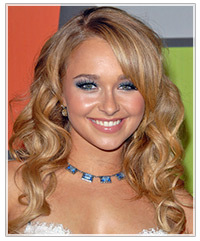 Hayden has been known to get it wrong sometimes, and in this photo we see how choosing the wrong color can ruin an otherwise glam look. Hayden has small eyes, so should only use small pops of color on the eyelid rather than all the way up to the brow bone. Her second mistake is choosing a cool blue, instead of a more flattering warm color of gold, green, or copper.
See more of Hayden Panettiere's hair and makeup.