Being a teen soap actress means that Haley Pullos has the best access to makeup artists in showbiz, so it's no surprise that she always looks fab. She is a fan of the natural look and is great inspiration for teens who want to look polished but in a subtle way. Here is how teens can do their makeup, Haley Pullos-style!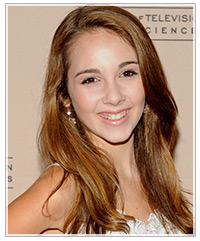 Haley brings out her brown eyes with a thin line of brown eyeliner on the top lash line. Her eye shadow is kept to a minimum and is usually a light or neutral shade. Here, she has a light nude shade with a bit of shimmer to bring light to her eyes, and naturally a coating of mascara to bring out those lashes.
Her complexion, like most teens, is glowing so she doesn't need anything to brighten it up. She has a light peach blush on the apples of the cheeks for some definition but you can skip this if you want a lighter look.
Finally, Haley has chosen a nude peach lipstick with some sheen in it to top it all off. This is a gorgeous soft makeup look that teens will love…and their parents will too!