Talk show host and Oprah's BFF, Gayle King, is no stranger to makeup. From her experience working behind the scenes and in front of the cameras for years, Gayle knows the odd tip or two about how to look good as you mature. Here, we take a look at Gayle's day and evening makeup looks. Ladies with a similar age and skin tone will also suit these palettes, so read on for some makeup ideas.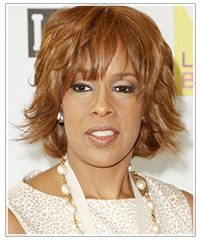 Here is one of Gayle's lighter looks that will work fabulously in the daytime. She has started with a light pearl eye shadow on the eyelids to really lighten up the whole eye area. To create contrast, she has lined her eyes in a dark brown-black shade and smoked it out softly on the outer corners of the eye.
Gayle has great skin, so all that was needed to make it glow was a bit of bronzer on the cheeks and a nude peach lip gloss. These colors look fabulous with black, brown or cinnamon hair like Gayle's.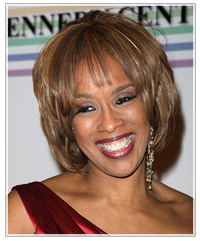 For night-time, Gayle pumps up the glam factor with smoky plum eye shadow and a glossy berry lipstick. This palette looks great with cool hair colors like black or Gayle's ashy brown.