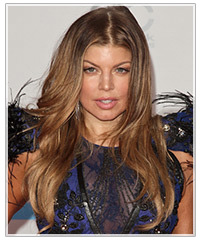 Former child star, one third of the Black Eyed Peas and a successful solo artist, Fergie oozes star quality everywhere she goes! Known just as much for her sexy outfits (many which have landed her on the Worst Dressed list, mind you) as her vampish looks, Fergie knows how to make an impression wherever she goes. If you are looking for party hair and makeup ideas, look no further than this pretty Pea.
From chocolate brown to platinum blonde, her tanned skin tone and blue eyes harmonize with almost any shade, although the platinum blonde hair does tend to make her look a bit rough.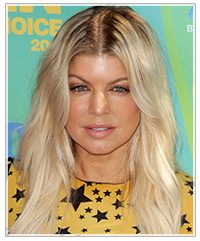 Regardless of hair color, Fergie is a master of sexy hair, fit for the A-list clubs of Miami, New York and LA. Fergie has highly arched eyebrows and a small forehead, so the centre hair part really is the only option for her. She keeps her hair super long and layered with loose waves thrown in for added sex appeal. The more you dance and sweat, the better this tousled hairstyle gets!
Her makeup is kept neutral in most cases, which brings out her creamy complexion and blue eyes. A bit of brown eye shadow, nude lipstick and her essential product, MAC Pro Lash Mascara, is all Fergie needs to look glam for a night on the town. And don't forget the finishing touch—a crazy outfit that preferably contains leather, PVC, feathers or sequins!