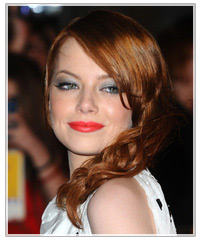 She's being tipped as the next hottest thing in Hollywood, and true to form, Emma Stone looks stunning in 99% of her photos. Emma is back to her fiery red best after a stint as a blonde, and likes to use makeup to highlight her large blue eyes and generally perfect face. She has some fabulous makeup looks for red hair, and this one is also quite good, however there is some slight clashing going on that we need to discuss. If you look like Emma Stone, you can probably pull this look off, but if you don't, use these tips instead.
The main problem with this look is that Emma's skin tone (like most natural redheads) is fair and pink-based (cool). She has used a gorgeous dark grey eyeliner and silver eye shadow for an icy cool eye. This matches her skin tone well and really highlights her light eyes.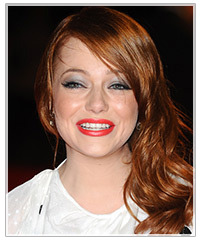 The rest of her makeup however, is not the best choice for her skin and hair. Emma is wearing an orange-based red lipstick and peachy blush, which is too warm and clashes with her silver eye shadow. While it's not the end of the world, using warm and cool shades on your face will make your makeup look heavier, and generally look more messy, and less fresh.
If you have red hair and fair skin like Emma, use a berry pink lipstick instead with silver eye shadow for fantastic results.
See more Emma Stone's hair and makeup looks.