Ellie Goulding's trademark look involves long platinum blonde hair and icy cool makeup to match. If you want to get Ellie's makeup, follow these steps: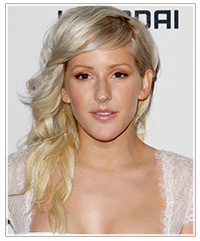 1. Ellie takes great care of her skin and starts off with a flawless base that lets her natural glow shine through. Leave your skin bare and just use concealer where necessary, or if you prefer to wear foundation, use a mineral formula.
2. Ellie leaves her eyebrows natural, so other than plucking the odd stray hair to keep your brows polished, leave them as is!
3. On the eyes, use a warm gold eye shadow in a cream formula to get that nice sheen that Ellie has. Follow it up with a dark brown eyeliner on the top lash line and natural looking mascara.
4. On the cheeks choose a soft pink blush that is a cream formula or has a highlighting effect to it.
5. Finally, gets those icy cool lips by wearing a pearlescent light pink lipstick.
This look will suit ladies with light blonde, red or brown hair and a fair skin tone, like Ellie.
For even more helpful makeup hints, see our full range of beauty articles and beauty blogs. You can even try some virtual makeup on your own photo or our model using our Virtual Hairstyler!