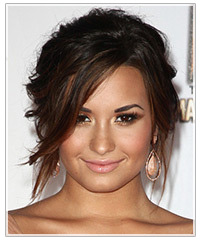 It's safe to say that teen starlet Demi Lovato's look is all about being cute. This Mexican-American singer-slash-actress is best known for her roles on Disney TV shows, hence she has the whole 'innocent' image going on.  We don't know how long it's going to last—she may do a Miley and start smoking bongs and doing lap dance routines sometime soon—however for now, she is flaunting some seriously pretty hair and makeup, and  we hope she keeps it that way!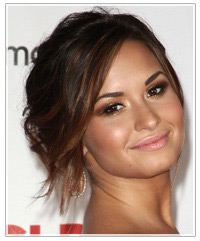 Demi has chosen fabulous colors to match her warm skin tone and highlighted brown hair. Her brown eyes are enhanced with gorgeous layers of brown and bronze eye shadow that have been dramatically extended towards the outer corner of the eyes. The eye shadow has not been applied too high up near the eyebrow arch, which keeps this smokey eye looking ultra modern and fresh. To complete the look, her lips have just a hint of beige pink lipstick to add color and shine.
Demi's updo is a great look for a night out. Her hair has been pulled back into a low chignon with pieces left loose on the sides. Her long side-swept fringe has a bit of wave added to the ends for extra hair volume and dimension.
See more of Demi Lovato's hairstyles.