The Canadian model seemed to have gone overboard with the eye shadow and ended up with pool of metallic bronze around her eye, rather than a smoked out look. Was she in a rush? Did her makeup artist unexpectedly quit? Is this some new trend that we don't know about? In any case, if this model can't pull it off, chances are no one can! Here's what to avoid: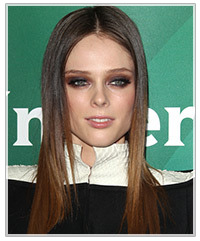 Coco's managed to match her eye shadow to the exact tones in her hair. This can look cool, but it can also make you look tired and sallow. Try to avoid matching your eye makeup to your hair color exactly, especially when it contains red or golden tones.
Blending your eye shadow from the crease all the way up to the eyebrow is not a good look unless you're on the runway. If you do want to use this technique, try a much lighter shade like pearl or bone instead.
Coco has applied her darkest shade on the entire eyelid rather than just in the crease and corners. This is good if you are going for a gothic look, but otherwise just use a bit in the crease and blend it out.
For even more helpful makeup hints, see our full range of beauty articles and beauty blogs. You can even try some virtual makeup on your own photo or our model using our Virtual Hairstyler!