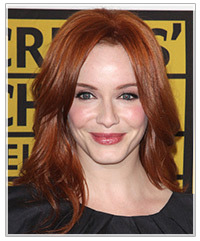 Christina Hendricks is famous for playing Joan Holloway on the hit series Mad Men, but off-screen her voluptuous figure and stunning looks bring her copious amounts of media attention. Different than the typical blonde, tanned Hollywood starlet, Hendricks embraces her porcelain skin and has been dying her naturally blonde hair red for the past twenty years. She can wear it long, short, straight and wavy, always managing to look gorgeous.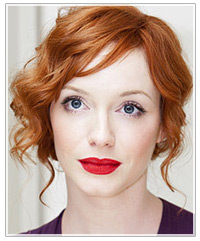 Makeup-wise, Christina opts for the classic look and is fanatical about maintaining her fair skin. Wearing sunscreen every day is a must for Hendricks, as are regular Dermologica facials. Women with copper red hair can pick up a lot of tips from her look. To bring out her large blue eyes, she uses black eyeliner and mascara. Cool coral and peach-toned eye shadow are also her favorites, followed by a glossy pink lip.
If you have red hair and don't know how to work a classic red lip, take inspiration from Christina and choose a bright orange-red matte lipstick. Keep the eyes neutral so as not to look overdone. Finally, a light dusting of coral or pink blush will bring a glow to porcelain skin, and compliment fiery red or copper hair.
See more of Christina Hendrick's makeup and hairstyle looks.