Are we in a time machine? Or does Christie Brinkley actually not age? This poster child for the Eighties, supermodel Christie Brinkley, is looking as youthful as ever with her light blonde hair, clear blue eyes and perfect smile. Her charcoal dress looks great with her blue eyes and blonde hair, but is her makeup the best choice for this look? Let's examine it a bit closer.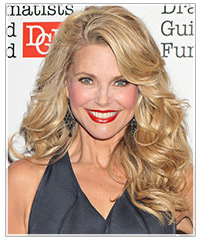 The eyes are lined in black, with a neutral eye shadow on the lids. A simple black mascara tops it all off.
On her cheeks, Christie has gone for an intense pink that is over the entire cheek. The pink looks nice on her skin tone, but it's overdone. Limit pink cheeks to the apples or just underneath and keep them as sheer as possible to avoid looking like you've had one too many glasses of wine.
Christie is wearing a blood red lipstick that has a slight orange undertone to it. This clashes with her otherwise cool palette, so a pinky red or blood red would've been a better choice.
Overall, Christie is looking vivacious and gorgeous. But with this grey dress, how smoking hot would she have looked with a deep charcoal smokey eye and nude lip?! What would you suggest if you were her makeup artist?