Christian Serratos has been working her new blonde 'do with some fresh new makeup looks. Recently, she was spotted sporting a modern take on classic vintage makeup. Here, Serratos is working a bronzed Barbie look that goes beautifully with her blonde hair, red dress and diamond earrings. This is a great option for women with warm skin tones who want to add some shimmer to their face, while looking ultra glam. Follow these steps to copy her look: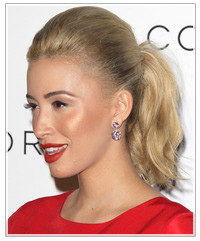 1. Christian has started this look off by perfecting her brows. Pluck and shape your brows and then fill them in with a pencil. It's all about the arch, so try to shape them as much as you can without over plucking.
2. Use a shimmery apricot eye shadow on the eyelids, and layer up a light nude shade in the middle of the eyelid to bring light to the eyes.
3. Create a dramatic cat's eye with dark brown or black eyeliner.
4. Follow it up with false lashes, and/or loads of mascara.
5. On the lips, choose a fire engine red shade, or one that matches your clothes if you are wearing red.
6. Use a highlighter and bronzer on the cheeks and pull it up towards the temples.
Finish it off with a super-stylish ponytail and you've just kicked up your glam factor!