Award-winning journalist Carol Radziwill has that iconic New York sense of style about her. Classy, sophisticated and glamorous, her latest look is reminiscent of the Seventies but with a modern twist. If you want to add a bit of retro flavor to your look, here's how.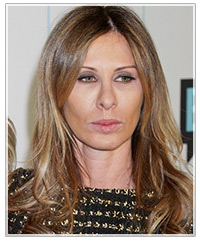 The Hair: This is a simple style that most women can pull off as long as they have medium to long hair. Start by blow-drying the hair smooth so its natural shine and gloss comes through. Then, add curls to the bottoms with a round brush as you are drying it, or for women with straight hair—with a curling iron or hair rollers. It's essential to have volumized roots for this look, so get out that comb and start teasing! Once you are finished, create a centre hair part, smooth the hair into place and spray to hold it all together. If you have a square or circular face, move the part to the side and sweep the hair diagonally across the forehead instead—the center part will not be flattering for you.
The Makeup: This is an easy style to achieve—choose your favorite neutral color like nude, grey or brown and apply it to the eyelid. If you choose to use a liner, only apply a faint line on both lash lines. Or, skip this step and go right to the mascara for a natural Seventies vibe.