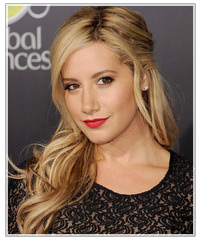 Ashley Tisdale goes back and forth between being a brunette and a blonde, but presently she is rocking long beige blonde hair, most likely with the help of hair extensions. Ashley's sandy blonde hair color is flattering to her skin tone and in this photo, she has pulled off "the red lip" by choosing the perfect shade for her hair, skin and eye color.
Many times, when celebs do the red lip, they go over the top and pair it with brassy blonde or platinum blonde hair color and dramatic black liquid eyeliner for a full-on retro look. Here, Ashley is doing the red lip in a very modern way. She has chosen a true red shade that matches her warm beige hair, brown eyes and medium fair skin tone. Her eye makeup is clean and understated, with only a simple black-brown eyeliner on the top lash line and the bottom outer corner. There is a slight contouring under her cheekbones that adds just a bit of dimension—if you don't have strong cheekbones, this technique will help to define your face structure.
Finally, let's not forget about the hair. This pretty relaxed half up half down hairstyle looks great paired with her modern makeup and diamond stud earrings. To copy this hairstyle, use large hot hair rollers to add loose waves to the ends of the hair, and pin the hair up in the back, leaving loose layers around the face.
See more Ashley Tisdale makeup and hair looks.