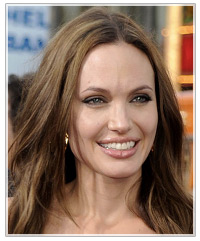 Being labeled 'The Most Beautiful Woman in the World' must be tough- think of the pressure to look stunning day in and day out. Well, I suppose having millions of dollars, Brad Pitt as a partner and a jet-setter lifestyle must make up for all of the hardships! Regardless, Angelina Jolie does have a naturally gorgeous face, which women all over the world look to for beauty inspiration.
Her hair has remained, dare we say it, really boring over the years, but she's probably too busy tending to her brood and being an UN ambassador to worry about looking trendy. She keeps it long, classic and brown, with the odd updo thrown in for red carpet events.
Her large eyes and lips are show-stopping on their own, so she likes to keep her makeup natural looking. For red carpet events, Angelina often wears a dark brown smoky eye shadow, to highlight her blue-green eyes, with cat's eye eyeliner and black mascara.
Sometimes she flaunts a ruby red pout, but those lips have a life of their own and the intensity of red can make them overpower her face. She usually sticks to a neutral beige lipstick that balances out her features while letting her natural beauty shine through.
See more of Angelina Jolie's hair and makeup.