If you have a warm complexion, chances are you will have golden tones in your hair. Whether you are rocking a warm cinnamon brown or buttery blonde, you can take style notes from Ana Mulvoy-Ten's makeup look here on your next big day out.
Because of the bold lip, this makeup will work for the evening best, but if you are feeling confident and have a kick-ass outfit you can pull this off during the day as well.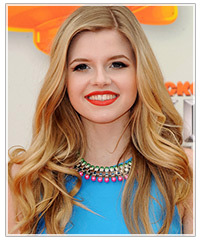 Ana has gone for a bold lip and eye, which is usually a makeup faux pas, but given her youthful style she can pull it off. If you don't feel comfortable with such a bold look, choose one element or the other as the main focus and keep the rest of the face neutral.
For the eyes, use dark brown liquid eyeliner to create a bold line that wings out towards the corners of the eyes. Ana is wearing a light golden eye shadow as well, which works great with her golden hair.
Her cheeks have been contoured with a light bronzer around the cheekbone area—copy this technique if you want to appear slimmer in the face.
Finally, the pièce de résistance of this look is the bright orange-red lipstick. This is the perfect shade for women with gold hair. For super glam evening looks, choose a glossy lipstick. For day, go with a matte option, or sheer gloss instead. And don't forget a gorgeous hairstyle to match!