Casual Hairstyles
TheHairStyler.com has a huge range of hairstyles you can try on: from celebrities and salons around the world, in Casual, Formal, Alternative and Mens Categories, and in a range of different lengths, textures, colors and highlights. Check out our Men's Casual Hairstyles below...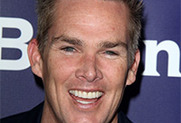 Mark-McGrath-short-spiked-up-casual-hairstyle
Description
Men's casual hairstyles can be described as free-flowing, easy-going, and ones that falls into place on their own. These types of hairstyles can be worn everyday at work, home, or on the weekends. They include short and medium spikes, ruffled layers, heavy taper cuts, one length looks, messy layered cuts, razor-cuts, and wavy and curly hairstyles.
Method
Styling these looks is usually very simple and takes very little time. It's almost a necessity that casual hairstyles look less styled and groomed!
Benefit
A casual men's hairstyle always has an element of attitude associated with it. They give the impression that "I still look good and don't need to be formal to be taken seriously." In other words they say: "I'm quick and easy, and take me as I am!"
Links
1 view

Short Straight Casual

The back and sides of neat and tidy hairstyle is clipper cut short for a close finish to the head, while the top layers are jagged cut to add height and texture. This hairdo will need little product to style and regular trims to maintain style.



Suitability Info

Face Shape:

Round, Oval, Heart, and Triangular

Styling Time:

10 minutes

1 view

Short Curly Casual

This curly 'do is jagged cut through the top to add height and texture which is great for those looking for a style to compliment a round face shape. Regular trims is needed every 4-6 weeks to maintain style.



Suitability Info

Face Shape:

Round, Oval, Heart, and Triangular

Styling Time:

10 minutes

1 view

Medium Straight Casual

This shaggy 'do sits flat to contour the head shape showing off the jagged cut layers which creates this shaggy 'do. This is best suited for those with naturally straight hair and will need regular trims every 4-6 weeks to maintain style.



Suitability Info

Face Shape:

Oval, Oblong, Square, and Diamond

Styling Time:

10 minutes

1 view

Short Straight Casual

This fantastic blonde-'do sits flat on the head showing off a little texture thanks to the jagged cut layers all over. This is easy to re-create on fine to medium hair types and will need a little product to style.



Suitability Info

Face Shape:

Round, Oval, Heart, and Triangular

Styling Time:

10 minutes

1 view

Short Straight Casual

The sides and back of this style is clipper-cut close to the head, blending into the top jagged cut layers which add texture and shape which makes it easy to style. This look is easy to maintain with regular trims and needs only a little product to style.



Suitability Info

Face Shape:

Round, Oval, Heart, and Triangular

Styling Time:

10 minutes







1 view

Short Wavy Casual

This fancy 'do is cut short through back and sides to be swept back for a neat and tidy finish to the ends. The to players are jagged cut allowing the natural waves to do what they do best. Regular trims is needed to keep this style in shape.



Suitability Info

Face Shape:

Round, Oval, Heart, and Triangular

Styling Time:

10 minutes

1 view

Short Straight Casual

This hairstyle is cut short and neat around the back and sides allowing the top jagged cut layers to sit up adding texture and shape to the over-all style. This is a low-fuss do and will need regular trims to keep in style.



Suitability Info

Face Shape:

Round, Oval, Heart, and Triangular

Styling Time:

10 minutes

1 view

Short Straight Casual

Sleek and smooth is the main aim for this style. The ends all over are jagged cut to allow the hair to sit flat and contour the head. This is best suited for those with fine to medium straight hair.



Suitability Info

Face Shape:

Oval, Oblong, and Diamond

Styling Time:

10 minutes

1 view

Short Straight Casual

The back and sides are cut short than the top to allow the top to sit with a little height for shape and texture. This look is easy to achieve on most hair types and will need a little wax or moulding cream to style.



Suitability Info

Face Shape:

Round, Oval, Square, Heart, and Triangular

Styling Time:

10 minutes

1 view

Short Straight Casual

Fun and flirty layers cut through the top allows height and texture which gives this hairstyle plenty of shape. The back and sides are jagged cut close to the head to maintain a neat and low fuss edge. A little product is needed to style this 'do.



Suitability Info

Face Shape:

Round, Oval, Heart, and Triangular

Styling Time:

10 minutes