Alternative Hairstyles
TheHairStyler.com has a huge range of hairstyles you can try on: from celebrities and salons around the world, in Casual, Formal, Alternative and Mens Categories, and in a range of different lengths, textures, colors and highlights. Check out our Men's Alternative Hairstyles below...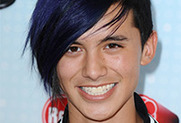 Cole Plante
Description
Men's alternative hairstyles can be described as ones that stand apart from fashionable, conventional and classic hairstyles. They are found in all various shapes and sizes and include: Mohawks, big spikes, unusual crops, and emo looks. Colors are usually bright, light or dark and depend on the actual hairstyle length and how much attention the wearer desires.
Method
Anything goes with these hairstyles. They include spiked punk looks that are gelled up hard and high, grungy long hairstyles that are waxed twisted and ruffled, and good old fashioned dreadlocks that are matted and knotty beyond repair.
Benefit
If you want to feel free of fashion, then go for it. Or, if you want to bolster your marketing campaign, then an alternative hairstyle may be a good choice. But beware because some hairstyles will take some work to repair, particularly wild colors that may damage your hair (when stripped out or re-colored), or dreadlocks that can only be cut off.
Links
1 view

Short Straight Alternative

The back and sides of this hairstyle are clipper cut short blending into the top jagged cut or razor-cut layers which gives this bold 'do plenty of shape and style. This look is great for those looking for a hairstyle to wow the crowds and will need regular trims to maintain shape. .



Suitability Info

Face Shape:

Round, Oval, Heart, and Triangular

Styling Time:

20 minutes

1 view

Short Straight Alternative

This crazy 'do is all about texture and height thanks to the jagged cut layers all over which makes this possible. This look is easy to re-create at home with the right products and is best suited for those looking for a hairstyle with plenty of attitude and wow factor.



Suitability Info

Face Shape:

Round, Oval, Heart, and Triangular

Styling Time:

10 minutes

3 views

This under-cut hairstyle is clipper cut high up through the sides and back. The top length is left long enough to be swept back and high making this flamboyant hairdo perfect for those with round face shapes. Regular trims is needed to maintain this style and strong hold product for hold and shine.



Suitability Info

Face Shape:

Round, Oval, Heart, and Triangular

Styling Time:

10 minutes

1 view

Short Straight Alternative

This bold 'do is cut short around the back and sides leaving the length through the top long enough to be worn up high making it a great hairstyle for those with round face shapes. Strong hold product is needed to secure this style in place for any weather condition.



Suitability Info

Face Shape:

Round, Oval, Heart, and Triangular

Styling Time:

10 minutes

1 view

Short Straight Alternative

This high and fancy do is sure to turn heads with its jagged cut ends through the top to achieve maximum texture and making the highlights stand out more. The back and sides are kept nice and short to maintain a neat edge around the ears. This look will need wax or moulding paste to style.



Suitability Info

Face Shape:

Round, Oval, Square, Heart, and Triangular

Styling Time:

10 minutes







1 view

Short Straight Alternative

Texture and height is the main aim for this big and bold hairstyle. The ends all over have been chipped and jagged cut to achieve maximum height and lift as well as volume through the sides. A lot of teasing at the roots is needed to re-create this 'do and strong hold product will keep this look in shape all day.



Suitability Info

Face Shape:

Oval, Oblong, Square, and Diamond

Styling Time:

20 minutes

1 view

Short Straight Alternative

This two-toned hairstyle is cut short around the back and sides, blending into the top layers which are razor or jagged cut to achieve maximum height and texture. This look is best suited for those who want to be the main attraction anywhere they go.



Suitability Info

Face Shape:

Round, Oval, Heart, and Triangular

Styling Time:

10 minutes

1 view

Short Straight Alternative

The main idea for this funky 'do is height and wispy edges. The ends all over are jagged cut or razor cut to achieve maximum texture which makes it easy to style high and flat with a little product. This look is best suited for those with fine to medium hair types.



Suitability Info

Face Shape:

Round, Oval, Heart, and Triangular

Styling Time:

10 minutes

1 view

Short Straight Alternative

This funky 'do can either be jagged cut all over or razor cut to get the full textured look and feel. The roots will need to be teased to achieve maximum height and lift to create this look which is best suited for the bold and brave. Strong hold product is needed to keep this look in place.



Suitability Info

Face Shape:

Round, Oval, Heart, and Triangular

Styling Time:

10 minutes

3 views

The back of this short alternative hairstyle is tapered into the neck with short to medium layers jagged cut up to the crown and around the sides to form this fantastic shape with plenty of texture which is great for those looking for a style to wow friends and family. The front layers are also jagged cut to finish off the style perfectly.



Suitability Info

Face Shape: Styling Time:

10 minutes