Alternative Hairstyles
Men's alternative hairstyles can be described as ones that stand apart from fashionable, conventional and classic hairstyles. They are found in all various shapes and sizes and include: Mohawks, big spikes, unusual crops, and emo looks. Colors are usually bright, light or dark and depend on the actual hairstyle length and how much attention the wearer desires.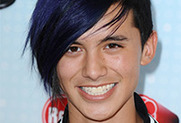 Cole Plante
Description
Anything goes with these hairstyles. They include spiked punk looks that are gelled up hard and high, grungy long hairstyles that are waxed twisted and ruffled, and good old fashioned dreadlocks that are matted and knotty beyond repair.
Method
If you want to feel free of fashion, then go for it. Or, if you want to bolster your marketing campaign, then an alternative hairstyle may be a good choice.
Benefit
Some hairstyles will take some work to repair, particularly wild colors that may damage your hair (when stripped out or re-colored), or dreadlocks that can only be cut off.
Links