Same Haircut Different Styles
Medium Texture Medium Length Hairstyles
By Paola
Have you ever wondered what your new haircut would look like styled in different ways? In this day and age, and with so many new products and styling tools available on the market, you're not limited to one way of styling a new haircut. There are several ways you can style your hair at home, or in the comfort of a professional stylist, and TheHairStyler.com has made it that little bit easier for you by showing you how simple it is to see yourself with the same haircut, but in all different ways. This month we have chosen to look at a medium to thick texture, medium length haircut.
The Cut: Medium Texture Medium Length Hair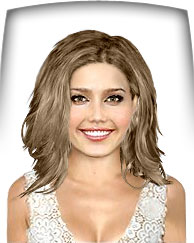 The length has been cut just below shoulder level and the top and side sections have been angle layered to form this full, flicked 'do. This haircut will work well on medium to thick hair types and longer face shape best of all.
Bridal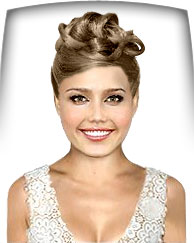 This bridal style is perfect for this particular cut and is a great option for a blushing bride. The hair has been pinned up high into round barrel curls to give the crown area all the focus.
With Bangs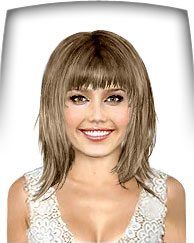 By adding full heavy bangs around the front and blow-drying the hair flat and straight, the style becomes a very chic look which will command loads of attention.
Curly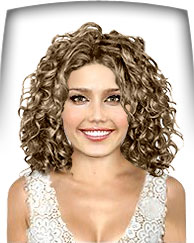 This cut works so well with every other styling technique that it is obvious that it will work perfectly with curls. This style is great for people with naturally curly hair. If you don't have curls, however, all you need is a curling iron and a little patience.
Wavy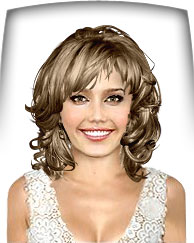 This very soft and seductive wave is perfect for a night out on the town. The style utilizes the bangs to add shape around the face and wraps the ends up in soft waves around the face. This style is very easy to re-create with the flick of a curling iron.