Bangs are perfect for adding versatility to your look and for giving your hair a makeover without sacrificing your length, but they can also make such an impact that they totally change the way you look. This is because the look, style and length of bangs have the ability to shape your face - for better or for worse.
The Right Bangs for Your Triangular Face Shape
The lower half of triangular faces is very heavy and will benefit from bangs that draw attention from the bottom half of the face and focus it on the middle or top half of the face for the most flattering look.
Side-Swept Bangs with Some Height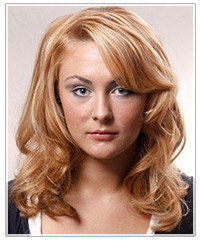 Side-swept bangs that allow most of your forehead to show through will keep attention on the top section of your face. Also, having some height to the bangs further opens up the forehead and draws attention away from the heavy jaw line.
Light, Wispy Bangs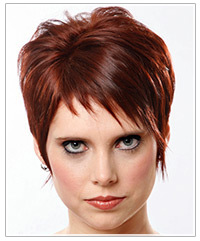 Light, wispy side-swept bangs will add some diagonal direction and draw attention to the eyes and the middle of the face and the lightness of the bangs will still allow part of your forehead to show through instead of blocking it out completely.
The Wrong Bangs for Your Triangular Face Shape
Triangular face shapes have characteristics that can make them look wide and short so ensuring that you avoid bangs that encourage width and a short face length is the way to go.
Full Bangs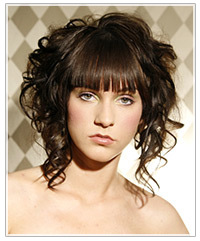 Full bangs that cover up the slimmest area of your face (your forehead) will put the largest part of your face shape (your wide jaw line) on show and should be avoided if you want to achieve a truly flattering look with bangs.
Face Covering Bangs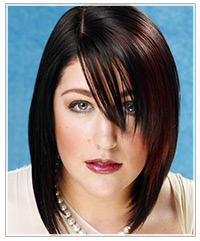 Bangs that hang in the face and essentially cover up most of the top half of the face shape is not a good look for triangular faces as the only visible part of your face will be the wide jaw line area.
By choosing the types of bangs that will give your triangular face shape a much more flattering look you can then give focus to the other features of your face, such as your eyes, really nicely shaped lips or your nose, so be sure to keep these types of bangs in mind when looking for the right bangs for you.
To see if these bangs will suit you, click on the images for a link to try the virtual hairstyle on your own photo or our model. If you're after more options then visit our hairstyle categories for plenty of great bangs hairstyle ideas.