Bangs are perfect for adding versatility to your look and for giving your hair a makeover without sacrificing your length, but they can also make such an impact that they totally change the way you look. This is because the look, style and length of bangs have the ability to shape your face - for better or for worse.
The Right Bangs for Your Round Face Shape
To make the most of a round face shape, your bangs should add some much needed length and also narrow down the sides of your face to create a much more flattering face shape.
Face Framing Bangs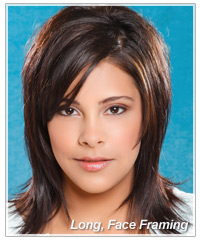 Long bangs that can be shaped around the perimeter of your face will add length and create a narrow line around your face.
Wispy, Side-Swept Bangs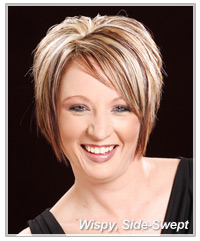 Wispy, side-swept bangs will flatter and add softness to a round face shape without covering up too much of the shape and making the face look smaller.
The Wrong Bangs for Your Round Face Shape
Round face shapes can look wide and short so bangs that are going to really accentuate those types of features, such as full, blunt cut bangs which will halve the length of your face, should be avoided.
Short Bangs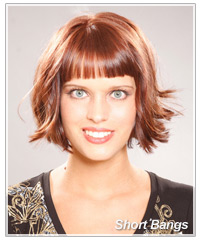 Short bangs that stop above your eyebrows will instantly shorten the length of your face.
Straight Across Bangs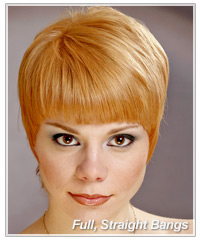 Bangs that have been blunt cut and styled straight across will shorten your round face shape.
By choosing the types of bangs that will give your round face shape a much more flattering look you can then give focus to the other features of your face, such as your eyes, really nicely shaped lips or your nose, so be sure to keep these types of bangs in mind when looking for the right bangs for you.
To see if these bangs will suit you, click on the images for a link to try the virtual hairstyle on your own photo or our model. If you're after more options then visit our hairstyle categories for plenty of great bangs hairstyle ideas.