Adding bangs to your hairstyle is a great way to create a new look without sacrificing the length of your hair or using hair color. But as with a new haircut or hair color, if you choose the wrong type of bangs, you could end up with a new look that isn't exactly the right look for you.
To avoid getting bangs you'll regret, do your research first and choose the right bangs by looking at the ultimate deciding factor – your face shape.
The Right Bangs for Your Oblong Face Shape
To flatter the length of an oblong face shape you should choose bangs that will condense the length of your face and create a more suitable shape.
Straight Across Bangs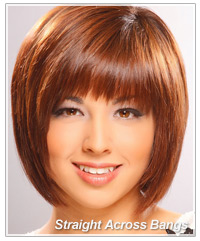 A straight across bang is a good choice for balancing width in longer faces, and when teamed with a side hair part, works even better!
Long, Side-Swept Bangs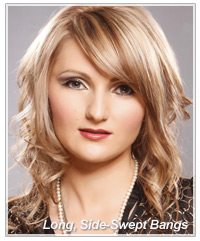 Long, side-swept bangs are great for eliminating vertical length and for making your face and chin appear shorter and more balanced with the rest of your face shape.
The Wrong Bangs for Your Oblong Face Shape
Because of the length of an oblong face shape, any bangs that have height, or are teamed with a high hairstyle, are going to immediately make the face look longer. The length of the face can also be highlighted by the absence of bangs.
No Bangs with a Middle Part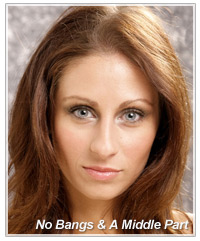 Because bangs cover up all or part of your forehead, they essentially cut the length of your face in half, which is ideal for oblong face shapes. Without bangs and with an eye drawing center part, the length of an oblong face is exaggerated.
Bangs and Height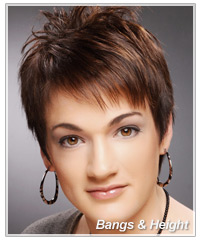 Bangs teamed with a hairstyle that has lots of height runs the risk of making an oblong face shape appear even longer than it is and should be avoided.
Due to its length, an oblong face shape is tailor-made for bangs and would really benefit from the varied looks that bangs can provide.
To see if these bangs will suit you, click on the images for a link to try the virtual hairstyle on your own photo or our model. If you're after more options then visit our hairstyle categories for plenty of great bangs hairstyle ideas.