But first, if you're going to get a super short pixie cut, or any other short hairstyle, then here are a few things you should bear in mind:
Short pixie cuts work best on women with fine features.
But even if you have large features a super short pixie cut with a dramatic hair color can effectively draw the focus away from your features.
If you have a heart face shape then go for a super short pixie cut with a bit of height, as this will balance your shorter, wider face.
If you have a square face shape, choose a super short pixie cut with softer edges as these will break up the angular lines of your jaw.
If you have an oblong face shape, a super short pixie cut that's flat with bangs works really well to shorten the face.
If you have an round face shape, a super short pixie cut with height through the top will effectively lengthen the face.
Alyssa Milano's Wispy Pixie Hair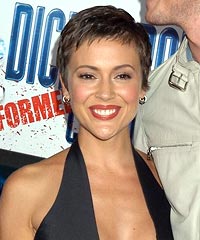 This is a fresh and cute hairstyle with wispy face-framing layers. Alyssa's pixie cut is an excellent example of how short hairstyles are a fantastic way of accentuating the eyes.
Eva Pigford's Funky Blonde Pixie Hair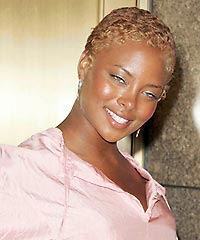 Eva's pixie cut has been kept super short and jagged-cut. The honey blond color suits her complexion and is quite striking. If you have natural curly hair like Eva and you'd like a short pixie cut like this then you need plenty of product to make your hair sit flat.
Pink's Razored Pixie Hair
If you like super short pixie cuts then bookmark our hairstyle gallery of Pink's hairstyles (because she loves them too). This particular example is great for coarse texture hair as the razor-cutting eliminates weight. Also, the height through the top makes this hairstyle a good choice for round face shapes.
A super short pixie cut is daring and it's true they work well with petite or large features. But it's also true that you can get a pixie cut that will suit most any face shape. I recommend using our virtual hairstyler to try a few on, and have a chat with your stylist too.