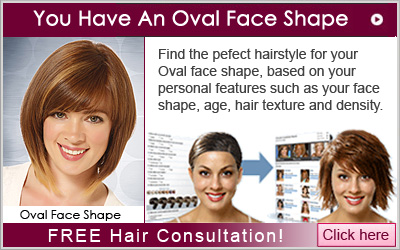 An oval face shape has long been regarded as the ideal face shape, simply because its proportions and balance allow it to pull off practically any haircut, hairstyle and makeup look with ease.
If you have an oval face shape then you'll recognize the following characteristics:
Your forehead and jawline are approximately the same width.
Your chin is rounded in shape with no hard lines.
Your jawline has a slight roundness to it.
Your forehead is slightly broader than your jaw.
Your face is widest at your cheekbones.
All of these characteristics add up to a balanced face shape which features no areas that are more dominate than another (your forehead is not noticeably larger than your jawline, for example). This allows you to wear a large range of looks when it comes to
styling your hair
and your makeup. We recommend taking a look at the following links:
If you've found this article without completing our
Face Shape Quiz
then
click here
to try the quiz now!