A layered haircut is one where different sections of hair from different parts of the head are cut into various lengths so they fall into unique geometric shapes. The engineering and modification of these shapes results in particular layered looks.
"Timeless" or classic layered hairstyles are described below.
Face-Framing Layers
Heidi Klum: Face-Framing Layers
This layer cut has been tweaked and changed many times over the years. It's used mainly to soften squarer jaw lines or to frame narrow chins. In its most accentuated form, face-framing layers can start right below the bangs and continue all the way down the sides. The top and back parts of the hairstyle can either be layered or left one length- as is the case in our example. It's a soft, textured and very sexy looking layered hairstyle.
Flicks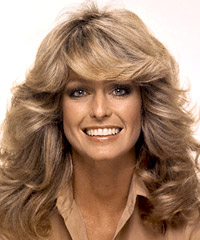 Farrah Fawcett: Flicks
The type of layering creates a flicked look, and it's very similar to face-framing layers but the difference is in the way the hair moves away or "flicks" from the face (as opposed to falling down on it). This great look, that adds width to longer face shapes, was made big in the 70s but has had several comebacks since then- most recently where soft waves have been created using hot irons.
Over-Extended Layers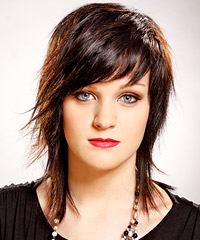 Layered Hairstyles: Over-Extended Layers
This layered look is created when the back and sides are layered heavily through the mid-sections, yet long lengths are still maintained. Also, the top area is sometimes cut shorter into choppy spikes or left a little longer and then razor cut for a messy result. This look has been called tomboyish and masculine in the past, possibly due to it being made famous by Suzi Quatro back in the day.
Short Uniform Layers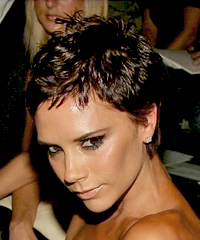 Victoria Beckham: Short Uniform Layers
This is a layered hairstyle that was around long before Victoria Beckham. Here the hair has been cut to the same length all over the head, resulting in what is known as maximum layering. Terms such as pixie, crop and Caesar have been used over the years to describe and brand this hairstyle. It's perfect for coarse hair types and is quick and easy to style from home.
Graduated Layers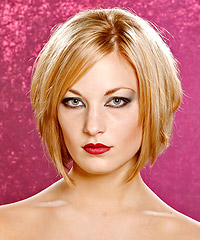 Layered Hairstyles: Graduated Layers
When the bottom and sides are cut with layers gradually getting longer, the result is what we call graduated layers. The weight line, or the place where the layering stops, can vary depending on the length of the hairstyle and the overall look required. The result is always a V-shape and layers that finish softer and less square, or solid and blunt at the ends. At chin level these falling down layers are soft looking, but to suit longer faces they can also be flicked up for more width.
Layered hairstyles are very popular hairstyles for good reasons- they're very versatile and there's a layered hairstyle that'll suit anyone. These classic layered hairstyles are tried and true hairstyles that have been around for ages and will be around for many more years to come. Try one with our virtual hairstyler today.
*For more information on layered hairstyles check out the following articles: "Layered Hairstyles: One of the Most Popular Hairstyles," "Layered Hairstyles: A Fashionable Choice for Celebrities" and "Layered Hairstyles Might Not be for You."