Word has it that forty is the new thirty, so it's no wonder that longer hair is becoming the norm for women forty and up. And why not? As long as it is kept in good condition and properly styled, long hair works on women of any age.
Women who are forty and over usually tend to go for more subdued looks, but that doesn't mean they can't copy Taylor Swift's new 'do or take inspiration from another young starlet's hairstyle. However, it is nice to see women from the same age group with great hairstyles to get a bit of style inspiration. With that said, here are some of the latest long hairstyles for women over forty, modelled by women over forty, direct from the red carpet!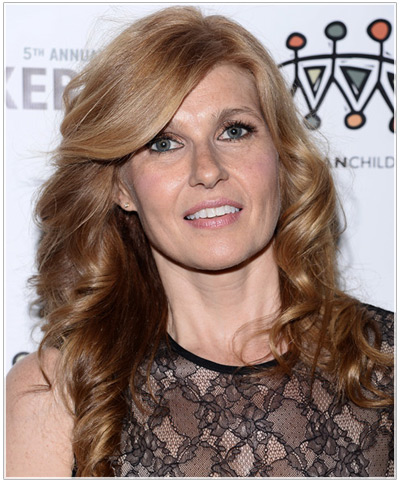 Connie Britton is looking fabulous here in a long, dark blonde 'do. This simple style has subtle long layers throughout to give the hair some bounce and movement. The side-swept fringe is a great hairstyle choice for women over forty as it hides fine lines that may be present on the forehead and makes the eyes take centre stage. To get this look, simply blow-dry the hair smooth and then set it in hot rollers. Soften up the curls with some pomade or shine serum and then use a hairspray to keep it in place. Color-wise, this is a gorgeous multi-dimensional color that has a dark honey blonde base and sun-kissed highlights throughout. This color will work nicely on women who have a warm undertone to their skin and especially suits those with ruddy or freckled complexions.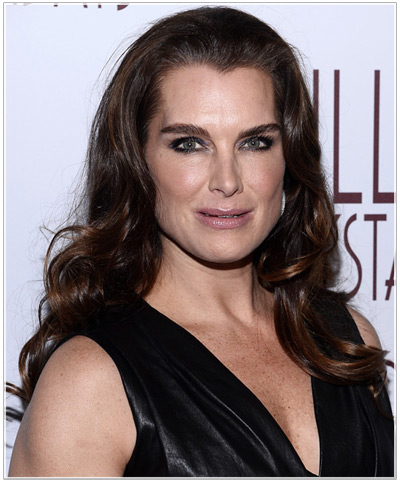 Brooke Shields always looks flawless, thanks in part to her gorgeous long espresso brown hair. Here, she is flaunting a classic long hairstyle with loose waves that can be achieved with rollers or a curling wand. Brooke has decided to forgo a part here and has swept her hair back off the face, which is an elegant twist on this long hairstyle. This is a great technique for women who have small foreheads that want to open up their faces, but women with large foreheads may want to skip this option and go for a side swept look.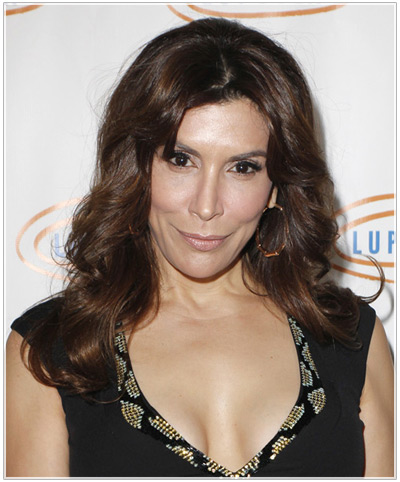 Finally, Jo Champa shows us how to wear longer hair in a way that sweeps away from the face. Her hair has shorter layers throughout, especially around the face. Her bangs have been styled to the side and the rest of the hair is softly curled away from the face. This can be achieved with rollers and is a good technique for women who have thin faces. Wearing your long hair in large outward waves will add more balance to your face and add some width to reduce slim or gaunt looking faces.
As you can see, long hair is pretty simple to do, plus it's a classic way to wear your hair. Over forties can rock long hair in just as many different styles as twenty-somethings and still look fabulous. Just remember to amp up your hair care routine to keep your tresses looking youthful and shiny.