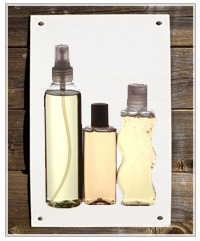 Hair styling products are an essential part of any hairstyle and can make the difference between your hairdo lasting all day and night, or flopping before you get out the door!
To bring some care to your hair, and to make sure your hairstyle always looks (and holds) it's best, give these tips a try:
Hair Styling Products
Products that contain silicone will temporarily smooth your locks and add shine to your hair.
Handle any styling wax with warm hands to make the product easier to control and use.
The most important hair products to use are shampoo, conditioner, a heat protector and a finishing product.
Use serums, glosses and waxes in blonde hair whenever styling products are necessary as they won't dull the color like matt-effect products.
Use the right product for your hair type. For more info, see our hair care article, The Best Hair Products for Your Hair.
If you suffer from dry or damaged hair try to avoid any hair styling products that are spirit based as they can cause further dryness.
For shine without the thickness of a serum, use shine gloss. It's sprayed into your hair just like hairspray and will give you glossy locks without the weight.
For a natural look, use light hair styling products that are sprayed on instead of products that require you to coat your hair strands.
Applying Hair Products
If you have fine or oily hair make sure to add any silicone products just to your ends to avoid an oil overload.
If you're applying styling products after washing your hair then always make sure your hair is only slightly damp to receive the full benefits of the products.
When applying hair styling products you should always start with the smallest amount possible and then add more if needed.
Wax can be used to add shine to your hair if applied evenly and lightly.
To avoid ruining your style with too much product, start where you have the most hair at the back of your head and then move to your front section of hair.
Hair Styling Help
To keep static strands at bay, spritz your hair brush with some hairspray and then brush through your locks.
Using leave in conditioner is a great way to care for your curls and transform them into manageable ringlets. Just apply to damp hair and twist your curls into shape.
Always match your styling products to your hairstyle. If you're going for super straight locks then use straightening cream. After a mass of curls or textured waves? Try frizz reducing products and curl boosters.
Use wax and gel products for hairstyles that require definition. They're great for twisting curls into shape, creating dreadlocks, or achieving a choppy look by piecing straight sections of your hair together.
To keep an upstyle in place, hold a can of hairspray at arm's length and then circle your hair three times for 10 seconds at a time.
Try to set very curly hair when it's wet for a better result but make sure your hair isn't dripping wet (gently blot with a towel to remove excess water) so your hair styling products can set firmly.
Never apply gel and then blow-dry your hair or you'll end up with a flaky residue.
Whether your bathroom cupboard is full of the latest and greatest products, or you've only just started to build up a collection, these tips about specific hair products, how to use them in your hair, and what works best with certain hairstyles are sure to help you out!