Celebrity Profile: Charlize Theron
By Angela
In TheHairStyler.com's celebrity profiles find out all the important biographical information about your favorite stars...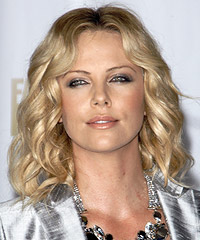 A flattering hairstyle can be the most important factor in your appearance, because not only does it tell others about your character, but it also gives your body poise, frames your face and complements your lifestyle. Celebrities have mastered the art of the flattering hairstyle and will often transform their hair from long extensions, to mid-length layered bobs, to a short sexy crop and change the color of their hair from blonde, to red, to brunette all to keep their look fresh and appealing.
Talented, good looking and adored by the camera, Charlize Theron, is one celebrity who can wear almost any hairstyle and always looks instantly beautiful. With her perfect oval face, petite features and fine strands, Charlize's hairstyles have ranged from a short pixie cut, to a straight mid-length bob, and the always classic, wave hairstyle.