Christina Hendricks loves to style it up for fancy occasions, but her hair looks just as good in a more casual style as well. Here, Christina is wearing a wavy shoulder-length bob that has that 'messy-glam' thing goin' on. If you want to get this look at home, just follow these easy steps: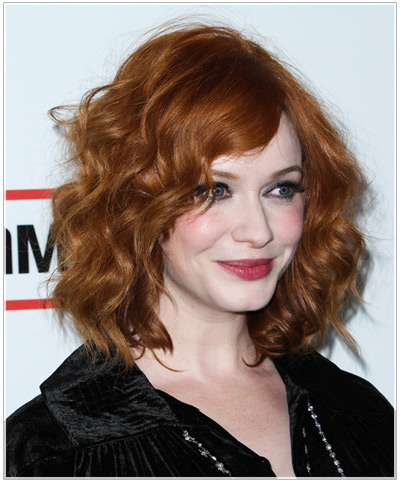 1. Section your hair from ear to ear, and secure the top section so it is out the way-you'll start to work with the bottom section first. Use a curling wand to create corkscrew curls in 1.5- 2-inch sections.
2. Work your way around the head until the bottom section is finished. Take the remaining hair and use half of it for your next section. Continue curling sections with the wand until the entire head is done.
3. Create a side hair part and spray it into place.
Tips:
- Don't wrap the entire hair section around the wand-start the curl an inch or two from the root and leave an inch at the bottom uncurled.
- Wrap some sections around the wand going away from the face, and some towards the face. This creates a more natural, uneven wave in the hair.
- Use a matte wax to add definition and volume by separating the curls with your fingers before spraying it into place.
To see how you'd look with the great hairstyle pictured in this hair blog, click on the above image to try the virtual hairstyle with your own photo!