Buns can be worn loose and low, or piled high on the top of the head-also known as a top knot. But don't be fooled-there is more than one way to create a top knot in your hair. Check out these photos for some inspiration: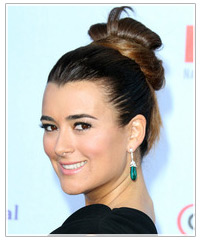 Cote de Pablo wears a high bun that has been "folded" over (rather than twisted) and wrapped in a circular motion like a traditional bun. To get this look, start with a slicked back, high ponytail. Create a fold at the top of the ponytail and secure it with hair pins at the base. Then, take the remaining loose ends and wrap them around the base of the ponytail. You can tuck the ends in for a clean look, or let them hang loose like De Pablo has done here.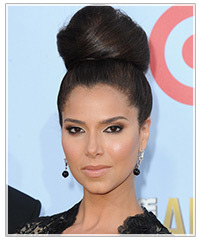 Roselyn Sanchez goes OTT with her oversized top knot and it looks fab. If you don't have natural Rapunzel-like hair, use a hair extension or two and wrap it around your bun for this elegant effect. Keep the hair smooth as you wrap it around, tucking the edges under for a clean finish.
Whatever top knot style you choose to rock- don't forget to wear a fabulous pair of earrings!
You need to be a member to post comments. Sign up Or Login