Lori Loughlin still looks as good today as she did decades ago on "Full House"- how does she do it?! For one, it's obvious she takes great care of her skin. Two, she always has a modern, funky hairstyle to keep her looking youthful and trendy. Here, she models a gorgeous hairstyle that will suit heart and diamond-shaped faces perfectly. Here's how to get it: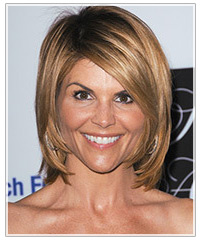 1. Ask your hairstylist for a shoulder-skimming bob with layered ends. This will give you lots of movement and bounce.
2. If your bangs are grown out, have your stylist cut your hair on a deep side hair part, and layer it around the face.
3. To style this hairdo, use a volumizing hair mousse after your have towel dried your hair, then use a large round brush when you are drying your hair to pump up the volume, especially in the crown area.
4. To highlight the gorgeous layers in this cut, use a light wax or pomade throughout the ends to keep them separated.
This is a fabulous cut for heart and diamond shaped faces because it balances out the prominent chin area and highlights your fantastic cheekbones. Plus, it's stylish and easy to do!
You need to be a member to post comments. Sign up Or Login