While having fine hair can sometimes mean missing out on a hairdo that only thick hair can hold up, it doesn't mean that you can't have a head turning hairstyle or so many hairstyling options that you can wear a new look every day of the week. All you need are some hairstyle ideas that are just made for fine hair!
Professional Looking Blowout: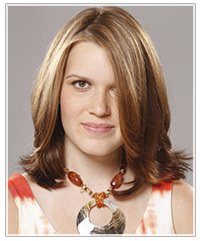 A look that's just as great for the weekend as it is for a day in the office is a professional looking blowout. Not only will your hair look neat and polished, but using a round hair brush while blow-drying will add some much needed body into fine locks. Ensure your look lasts for a long as possible by checking out the tips in our hairstyle article, Blow-Drying Hair Tips: How to Get a Style That Lasts.
Soft, Loose Waves: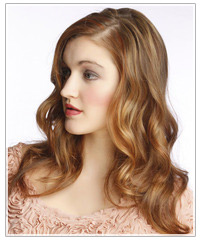 One way to really add some movement into fine hair is to style soft, loose waves into your tresses. Large hair rollers or a curling iron with a large barrel will create the right shape in your hair. If you find that waves or curls drop out of your fine hair quickly then our Curl Keeping Hair Secrets article has some easy advice that you can follow.
Twisted Updo: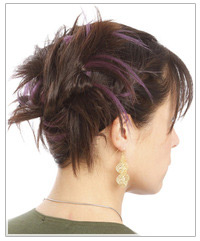 A twisted updo is a funky way to take advantage of fine hair strands and to also show them off. To re-create this look, pin your hair back and then separate your length into small sections and then twist and pin the sections up randomly. It'll create an interesting look at the back of your head, and a flattering look up front (click the image on the left to see the front of this style).
Braided Hair: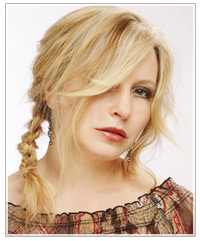 Braids are one of the best ways to keep your hair out of the way while still looking super stylish and are a cinch to pull off once you've mastered the art of braided hair. In fine hair, a braid can be very versatile. Try adding one across the top of your head as an instant headband or through the length of your locks as a side style (pictured left).
Half Up Half Down Hairstyle: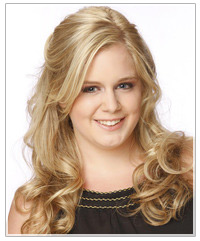 Our hairstyle ideas for fine hair wouldn't be complete without a half up half down hairstyle! Universally flattering, a half up hairdo works well with fine hair to create a soft and stylish look that can be dressed up with hair accessories or left plain to suit any occasion. Don't forget to leave some strands out around your face to create a pretty finish.
You need to be a member to post comments. Sign up Or Login