Kelly Clarkson is known for her powerful voice and her ever-changing hair color. Usually blonde or brunette, Kelly likes to experiment with highlighting and different cuts—some that suit her round-shaped face better than others. If you have a round face shape, you will have a round chin and proportions that are equal in height and length just like Ms. Clarkson. Here are some of Kelly's most popular looks--let's see how they would fare on the average circle-shaped face.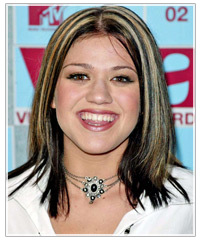 Kelly went a bit crazy with the highlighting here, but the skunk stripes aside, the length and cut is a good choice for circle-shaped faces. The layering in the ends create more definition in the face without dragging it down. Centre hair parts are not recommended for circles, so switch it to the side in any style you wear.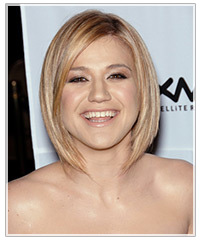 This is a fabulous cut for round faces because the angled ends and heavy layering creates a nice sculpted oval shape. Kelly has her parting spot on in this look, which slims her face down immensely.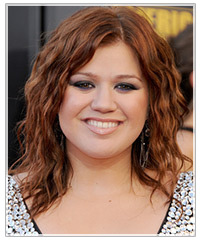 Kelly's gone copper in this sexy look, and her loose waves look great as well. Circle faces can pull off this wavy, medium-length style as long as there is lots of layering and thinning in the ends to avoid adding extra heaviness at the chin.
See more Kelly Clarkson hair looks here and try the hairstyles on with your own photo using our Virtual Hairstyler.
You need to be a member to post comments. Sign up Or Login