An oblong face shape is characterized by long and narrow proportions with a straight cheek line and pointy chin. Because oblongs are bottom-heavy, styles that pull the eye upwards are most flattering, whereas very blunt, long hair is a definite no-no. A very famous oblong, Hilary Swank, shows us how to wear different styles with this particular face shape.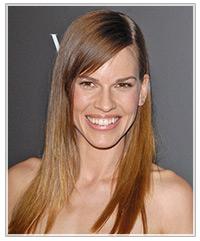 This longer style works on oblong faces because there is lots of layering and movement throughout the lengths and ends. Hilary's side-swept fringe creates nice coverage over the forehead and the razored ends of her hair soften up the jaw line—something that is essential for oblongs.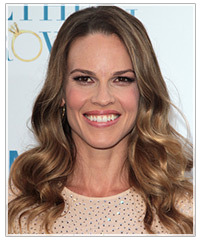 Here, Swank's soft beige highlights and feminine waves soften up her features. The hair volume in the roots adds height—another essential tip for oblong faces that will balance out the strong jaw line.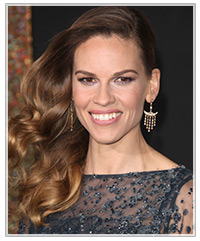 In this photo, Hilary is wearing beautiful waves that have been styled to the side. Oblongs look good in side-swept styles so if you are still rocking a centre hair part, do a Swank and switch to a deep side hair part that has lots of volume and will show off that fabulous bone structure of yours!
See more Hilary Swank hair looks here and try the hairstyles on with your own photo using our Virtual Hairstyler.
You need to be a member to post comments. Sign up Or Login