Glenda Hatchett looks radiant in her latest hairstyle—a cropped pixie haircut that brings all of the attention to her big brown eyes and bright smile. This haircut looks fabulous on all ages and skin tones. Younger women with an edgy sense of fashion will look chic and modern, while mature women like Glenda will exude confidence and glamour with this style.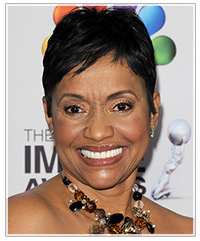 This is an easy look to pull off for day or night. This haircut is low maintenance, which means getting ready in the morning is a breeze—all you need to do is wash, add a little product and go! To jazz it up for the evening, wear a show-stopping outfit and a piece of statement jewellery like Glenda's chunky necklace.
Get this look by asking your hairstylist for a layered hairstyle with an angled short fringe and tapered sides and back. Make sure that he/she adds lots of volume in the crown area. The haircut is best showed off with a shiny, one-tone hair color, like Glenda's black locks.
Although this haircut will suit all face shapes, it is especially gorgeous on round faces. The voluminous crown area adds height to the face while the jagged fringe adds a nice slimming effect.
To see how you'd look with this great hairstyle, click on the above image to try the virtual hairstyle with your own photo!
You need to be a member to post comments. Sign up Or Login