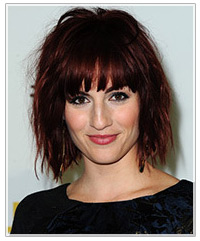 Alison Haislip was looking fresh and funky at this red carpet event thanks to her edgy hairdo. The deep red hair color looked rich and glossy, not to mention perfectly festive for this time of year! Her haircut is pretty basic, after all it's just a softly layered bob, but her styling tricks gave it an extra kick that made her stand out from the crowd. If you are bored of your bob, try adding some kinky waves to give it a trendy boost.
If you want uniform kinks, your best bet is a crimping iron. Choose the largest size of crimping plate for less frizz in the final look. You can also do alternate sections, crimping one section then leaving the next section straight, if you fancy your hair looking more "effortless".
Another way to get this look, sans heat, is by letting your hair dry in loose braids. If you have the time to use this method, your hair will appreciate the heat-free styling and you will get softer-looking kinks. Simply towel dry your hair and braid large sections of your hair, then let dry.
To style it, use some styling wax to separate the pieces, followed by hairspray to lock in the volume.
To see how you'd look with the hairstyle pictured in this blog, click on the above image to try the virtual hairstyle with your own photo!
You need to be a member to post comments. Sign up Or Login