Alanis Morissette became a huge music sensation in the Nineties with her rock chick music, attitude and looks. At the same time of the Britney Spears pop tart explosion, Alanis stuck out because she had an edgy style of music and fashion, complete with a wild mane of curly hair. These days Alanis is doing her thing as a mom, but her quirky beauty still keeps her in the limelight. And if things on the music front are now a bit quiet for her, in the meantime she serves up some hairstyle ideas for those with the same oblong face shape as her.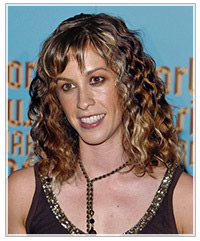 Oblong face shapes usually have close-set eyes, longer noses and high foreheads. Here, Alanis shows them how to do bangs properly with a jagged, layered fringe that covers the forehead but doesn't box the face in. Her curls add width to her face—a bonus for oblong shapes.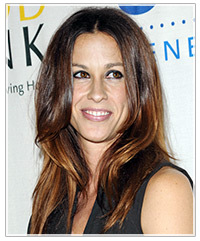 Alanis looks stunning here with sleek hair that has a bit of wave in the ends. The long layers around the chin balance her face out, and the highlighted ends add dimension. Alanis rocks a centre hair part here, but take note—most oblong shapes do better with a side hair part. To add width to her face, Alanis amps up the volume by backcombing the roots and underlayers…and probably using a lot of hair mousse in the process!
See more Alanis Morissette looks and try the hairstyles on with your own photo.
You need to be a member to post comments. Sign up Or Login